36 Channels in 36 Days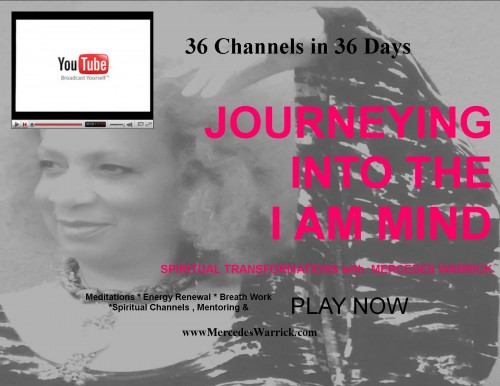 I have been asked to channel messages from my guides,
36 Channels over the next 36 days.
It was a noisy January in the world and the Guidance has been silent. Now that the resolutions are made and 2016 is in full swing the Channel has become present.  I am not certain what will be flowing through.  Some breath work, some prayers, some teaching for sure.  This actually will be the longest session I have done like this.
Each Channel will be available by the following day on the page on my website titled 36 Channels.
There is no set cost for listening to the Channels.  We are asking for a spiritual circulation offering of $36.00 or more.
You can make this gift by
BY CLICKING HERE and add ANY amount you wish to contribute.
Each recording will be made at 6:30 a.m. and then posted on the 36 CHANNELS IN 36 DAYS web page later in the day.
So you will be able to listen at your convenience.  After day 36, the web page will close. So make sure you are listening consistently and often.
I AM under Guidance to keep it simple!  This is it.  We'll make adjustments as needed along the way.  Invite your friends.  It is always fun to do these sessions within a community of friends and collaborators.
Enjoy!
SUBSCRIBE TO NEWSLETTER SUBSCRIBE TO YOUTUBE CHANNEL