The Soul Inspired Tune Up®  is a personal renaissance.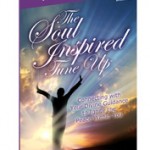 You renew, energize and elevate your emotional and spiritual frequencies.  Refreshed and reconnected you thrive from your Spiritual Source, an innermost peace and intuitive wisdom. Each action, thought or feeling, wish, dream or desire has an emotional frequency.  Through Love this process aligns with your personal artistry.  You flourish creating new visions, landscapes, solutions and expansiveness.  This is spiritual hygiene through releasing the lower energy "i am's." like anger, fear, hurt, lack, afraid, and more. There are 21 meditations, prayers and thought stimulators.
Within each of the 21 meditations there are four phases – Release – Align – Energize – Elevate that takes you through a process of spiritual hygiene.  This is a spiritual lifestyle.  You are strengthened, reinforced and renewed through connection with your Higher Source The Soul Inspired Tune Up leads you through.  Elevate to the Creator frequency of I AM through intention and with love.
This book is especially good for maintaining and uplifting your conviction to be cleansed of negative emotions on a daily basis. The Soul Inspired Tune Up was the way I was able to move through my post traumatic stress disorder into post traumatic spiritual growth.  Cleansing my physical and emotional pain, allowing me to open up to living again, these meditations were a key catalyst.
PEACE & CREATIVITY
This FREE audio orientation to The Soul Inspired Tune Up® includes an explanation of the 21 Soul Inspired meditation sequences. Bring your Self into alignment with clarity, peace and love aligned living.
Includes:  I AM Divine Magnificence meditation.
Listening Time: 44 minutes
Format:  Download the MP3
Peace & Creativity Register Here
Please CLICK Yes!  An email from Mercedes Warrick In Spirit will arrive AFTER you receive you FREE download.  Please join our community to receive news, information and other FREE meditations. We do not share our list with anyone…. I don't like spam either.
************************************************
For more information about The Soul Inspired Tune Up® visit the history page
Also explore the Visionscape System:  An Intuitive Card program based on the Soul Inspired Tune Up:  http://mercedeswarrick.com/the-soul-inspired-tune-up/visionscape-2/