Spirit said, "Light Worker, you are the gap.
"I had a wonderful opportunity to collaborate with Monica Bickerstaff, My Aroma Therapist and Facebook Friend.  As great energy always does we were INSPIRED to do a Channel just for her Facebook Group.  What resulted was rather unexpected point of view on a popular theme.  Monica's unique and most definitely deep spiritual Essence contributed to us exploring sacred spaces in a new way.
Often when we are seeking the peace within the chaos, the calm within the storm we go into meditation seeking the stillness.  Spirit postulates that we are what we seek.  The message is a refreshing take on an old and venerable principle.  I hope you enjoy finding out more about Monica's uniqueness, creative blends and healing oils as well. She is a certified herbalist and Traditional Chinese Medicine Woman.
Monica lives in Las Vegas, Nevada.
"As your Fountain Of Youth Guru(TM) I passionately recommend integrative natural healing therapies using herbs and Aromatherapy(essential oils) to rejuvenate your vim, vigor and vitality! And, I am passionate about aligning women and men with their purpose through self-care and natural body therapies. As a "Master Blender" my own line of essential oil beauty and wellness elixirs have been nationally acclaimed as: "life giving miracles in a bottle."
Her blends and creations can be purchased at:
Monica's Vegas Holistic Health Emporium
My Art Heals Me
Last year I had the wonderful opportunity to heal some very deep wounds through a process Authored and mentored by Aviva Gold.  Her book called, Painting From The Source, is required reading for anyone seeking a process that goes straight into your Soul to eradicate the shadows.  It was a life changing experience for me in many ways.  I was able to deal with buried trauma, abuse and open a gateway to revealing the gifts within the pain.  From time-to-time Aviva hosts retreats at her new mecca in Oracle AZ.  Here is her information on the next one.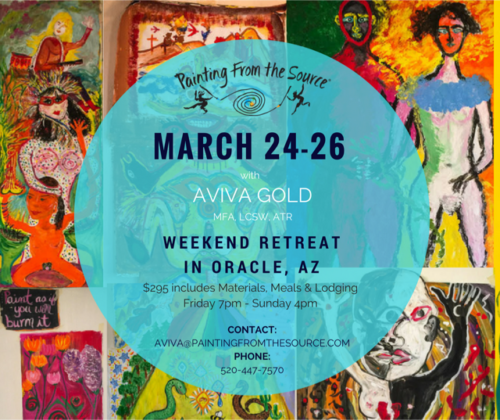 The process is an unfolding.  You do not have to be an artist to attend.  You will truly become divinely inspired to create, express and heal.
Happy March everyone!  More in a few days.
We will be igniting The Spiritual Mastermind.  More Channels are listed on the 2017 page  The Brown Hued Woman Channels are now posted and meditations.
If you would like an individual Channel and Expansion Session in March. I / We also Channel for small groups and spiritual organizations as well.
I'm here to serve you.
BLESSINGS!  PEACE! LOVE & PROSPERITY!
Get FREE access to online Reiki Blessings, News, Meditations and more by joining me here.  You will get the up-to-date information on events, Channels, It's ALL Spiritual & THE FIRST THOUGHT OF THE DAY Audios! JOIN ME HERE NOW!